November 22, 2014 J. Paul Getty Museum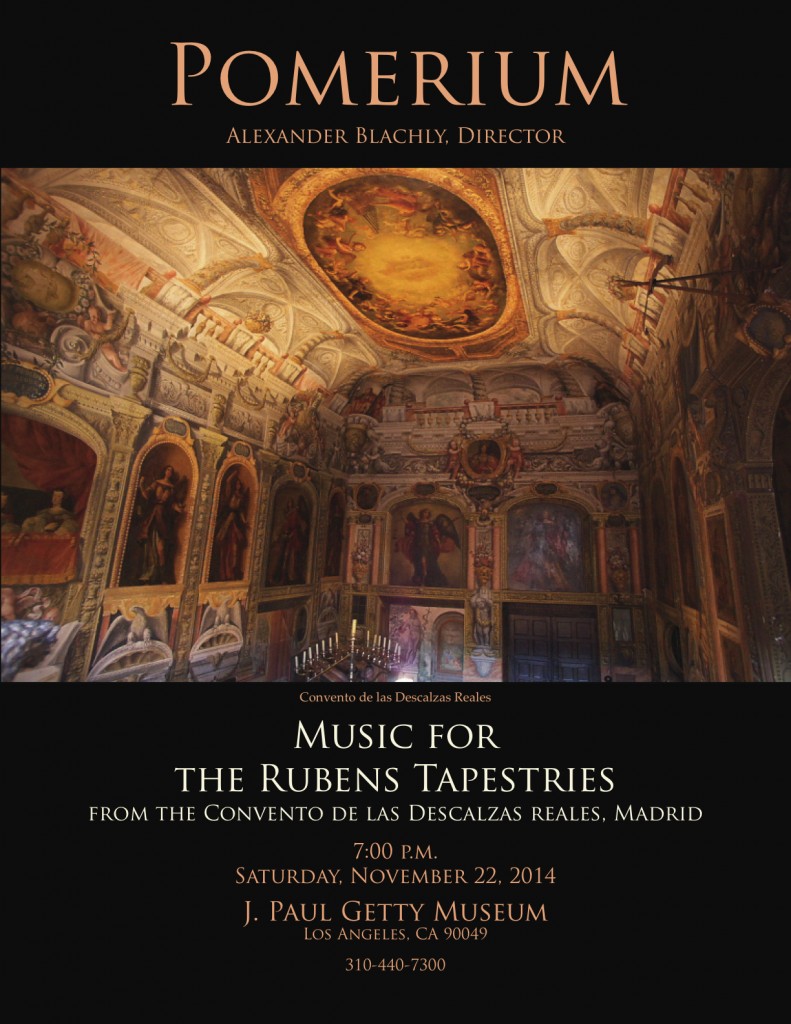 Program
Motet: Surrexit pastor, 6vv

Motet: Circumdederunt me, 5vv

Motet: Tota pulchra es Maria, 6vv

Requiem aeternum, Officium pro defunctis, 6vv
Versa est in luctum, Officium pro defunctis, 6vv

Motet: Ave virgo sanctissima, 5vv

Motet: Laudate Dominum, 8vv

Tomás Luis de Victoria (ca. 1540-1611)

Crist&#243bal de Morales (1500-1553)

Francisco Guerrero (1528-1599)

Tomás Luis de Victoria
Tomás Luis de Victoria>

Francisco Guerrero

Joan Pau Pujol (1570-1626)
Intermission
Motet: Ardens est cor meum, 6vv

Hymn: Ave maris stella, 4vv

Kyrie, Missa Ave maris stella, 4vv
Gloria, Missa Ave maris stella, 4vv

Sanctus, Missa L'homme armé, 4vv

Agnus Dei, Missa Ave virgo sanctissima, 7vv

Motet: Conceptio tua, 8vv

Tomás Luis de Victoria

Tomás Luis de Victoria

Tomás Luis de Victoria
Tomás Luis de Victoria

Francisco Guerrero

Géry de Ghersem (1582-1643)

Sebastián López de Velasco (1584-1659)



Pomerium
 Kristina Boerger, Martha Cluver, Melissa Fogarty,
Michele Kennedy, Dominique Surh – sopranos
Silvie Jensen – mezzo-soprano
Neil Farrell, Peter Gruett, Michael Steinberger, Christopher Preston Thompson – tenors
Jeffrey Johnson, Thomas McCargar – baritones
Kurt-Owen Richards, Peter Stewart – basses
Commentary on the Program
by Alexander Blachly
    Today's concert is designed as a musical complement to Rubens's oil paintings on the Triumph of the Eucharist and the tapestries based on them (ca. 1626-33) now on exhibit at the Getty Museum. Since the tapestries were created specifically for the church of the Monasterio de las Descalzas Reales (Convent of the Royal Barefoot Nuns), our musical program also focuses on the Convento church, where Spain's most famous Renaissance composer, Tomás Luis de Victoria (ca. 1540-1611), was choirmaster-organist for the last 24 years of his life and where he is buried. In addition to music by Victoria himself, we present works by his older colleague and friend Francisco Guerrero (1528-1599), one work by the most famous Spanish composer of the previous generation, Cristóbal de Morales (1500-1553), and one work by the Netherlander Géry de Ghersem (1582-1643), written when Ghersem lived Madrid in the 1580s and '90s. We can imagine Victoria presenting all of these pieces in what became during his tenure in the Convento church one of the great centers of sacred music in Spain. The psalm setting by Joan Pau Pujol of Barcelona (1570-1626) heard today just before intermission probably dates from the early 1620s; if it was performed in the Descalzas church, this may first have been when Sebastián López de Velasco, whose motet Conceptio tea ends our program, directed music there from 1619 to 1636, exactly when the Rubens tapestries were first put on display.
    The Monasterio de las Descalzas Reales was founded in 1557 by Joanna of Austria (i.e., Joanna of Habsburg), a person of great wealth and social stature: she was the daughter of Holy Roman Emperor Charles V and Isabel of Portugal, widow of prince João III of Portugal, mother of Don Sebastian, future king of Portugal, sister of Philip II (briefly the husband of Queen Mary Tudor and after 1556 king of Spain), and sister of María of Austria, spouse of archduke Maximilian II (later Holy Roman Emperor). The widowed Joanna lived in the Convent until her death in 1573. After Maximilian II died in 1576, the widowed María (now both archduchess and empress and mother of 16 children) lived in the Convent until her death in 1603.
    The Convent belonged to the Order of the Nuns of Poor Clare (the sister of St. Francis) and attracted primarily unmarried noblewomen who brought with them their dowries. As a result, it quickly became immensely wealthy, though its 33 strictly cloistered nuns led lives of personal poverty. Prior to 1557 the building had been the palace of Charles V and Isabel, and parts of the interior to this day exhibit the splendor one might expect of such a building. Among its treasures are fragments from Christ's cross, bones of St. Sebastian, Titian's Caesar's Money, Pieter Bruegel the Elder's Adoration of the Magi, and, as seen in the current exhibition at the Getty Museum, Peter Paul Rubens's series of large-scale tapestries on the Triumph of the Eucharist, which were hung in the chapel during occasions in the church year that focused on the Eucharist, such as the feast of Good Friday and the Octave of Corpus Christi.
    After 22 years in Rome, Tomás Luis de Victoria returned to his homeland in 1587 to assume the position of maestro de capilla of the church of the Descalzas Reales. So appealing was his situation in the convent that no cathedral could lure him away, though several tried. His principal patron was empress María, and it was for her funeral in 1603 that he wrote his famous six-voice Requiem Mass (Officium defunctorum in obitu et obsequiis sacra imperatricis), two movements of which are heard in the first half of today's program. After 1604 and until his death in 1611, he relinquished the demanding job of directing the choir, limiting his role to that of organist.
    When Victoria arrived in Madrid in 1587, the Convent choir consisted of 12 priests, who were also skilled singers, and four boys. Later, the number of boys was increased to six. In Rome Victoria had held a number of important posts, including those of singer and organist at S Maria di Monserrato for five years beginning in 1568; maestro di cappella at the Jesuit Collegio Germanico from 1573 to 1577, during which time he became a priest (1575); and chaplain at S Girolamo della Carità from 1578 to 1585. He longed, however, to return to his homeland, and made this wish explicit in the introduction to his second book of Masses (1583), which he dedicated to Philip II. The king and his sister María responded by arranging the post at the Convent. During the years he lived in Madrid from 1587 to 1611, Victoria, who had published most of his output while in Rome, still managed to bring out a book of Masses in 1592, a book of Masses, Magnificat settings, motets, and psalms in 1600, and in 1605 the aforementioned Officium pro defunctis for the 1603 funeral of empress María.
    Like Victoria, Cristóbal de Morales spent important years of his career in Rome, following appointments as organist in Seville in 1522, maestro de capilla in Avila Cathedral beginning in 1526, and maestro de capilla at Plasencia in 1529. He joined the papal chapel in Rome in 1535 for a tenure of ten years. In 1545, Morales accepted the appointment of maestro de capilla at the cathedral of Toledo, but because of poor health he resigned the position two years later to serve as the maestro de capilla of the duke of Arcos at Marchena. In 1551 he moved again, this time to serve as maestro de capilla at the cathedral of Málaga. His many moves contrast markedly with the job stability Victoria exhibited at the Convento chapel from 1587 to 1611 but seem in keeping with Victoria's peripatetic career in Italy beginning ten years after Morales's death.
    Morales's strong reputation continued to grow throughout the later sixteenth century. In 1559, six years after his death, his motet Circumdederunt me heard in today's program was sung in Mexico City for a commemorative service for Charles V (1500-1558), and for that reason it will always be associated with the emperor.
    Francisco Guerrero studied with Morales, most likely in Toledo, but taught himself to play the vihuela, harp, cornetto, and organ. On the recommendation of Morales he became maestro de capilla of Jaén Cathedral in 1546 at the age of 17, later taking a position as singer in Seville Cathedral in 1549. A few years later he began publishing music in Seville, Venice, Paris, and Leuven. In 1557 he presented a collection of motets to emperor Charles V, who by then had retired to a monastery in Yuste. In 1574, after 23 years as assistant maestro, he became principal maestro de capilla at Seville in 1574. He spent a year's leave in 1581 in Rome and in 1588 traveled to Venice and the Holy Land. Robbed by pirates on the way back, he was thrown into debtors' prison but then released when the Seville Cathedral chapter paid his creditors. After writing a popular account of his travels, he was planning a second trip to the Holy Land when he died of the plague in 1599. Together with Morales and Victoria, Guerrero represents an acme of achievement in the style of sixteenth-century sacred music known as the ars perfecta, the so-called Golden Age of Polyphony. He also won fame for his popular polyphonic villancicos in Spanish. His skill as a contrapuntist is most evident in today's program in his motet Ave virgo sanctissima, with its exact canon at the unison for the top two voices. The appeal of this work is evident in the challenge it presented to the Netherlander Géry de Ghersem, who while living in Madrid wrote a Mass based on it, expanding the number of voices from five to seven and the number of canonic voices from two to three.
    Joan Pau Pujol, organist and composer from Barcelona, became assistant maestro of Barcelona Cathedral in 1593 at the age of 23. Half a year later he was the principal maestro de capilla at Tarragona Cathedral for three months before leaving for the same position at Zaragoza, where he remained until 1612, having become a priest in 1600. From 1612 until his death fourteen years later he was back in Barcelona as maestro de capilla of Barcelona Cathedral, where he specialized in polychoral psalm settings like the one heard in today's program. Noting the brilliance with which this work projects the words, and its colorful effects skillfully achieved, we wonder at the negative judgment of Pujol's music published in 1913 by the French writer Henri Collet. He was disappointed in the composer's lack of "mysticism," a negative judgment repeated by others until recently.
    In 1586 the prolific composer Géry de Ghersem was recruited to Madrid from Flanders at the age of thirteen to sing in the Capilla Flamenca, the famed "Flemish Choir" (comprised of Flemish and French singers and composers) started by Charles V and inherited by Philip II. In Madrid Ghersem would have learned composition from Philippe Rogier, who became director of music at Philip II's court in 1582. Before he died in 1596, Rogier specified in his will that Ghersem should publish five of his Masses. This collection, in which Ghersem included his own seven-voice Missa Ave virgo sanctissima, appeared in 1598, financed by Philip II. It still survives. We can well imagine that Philip saw to it that these works, whose publication he had paid for, would be performed by the greatest musical establishment in Spain at the time, Victoria's choir in the Descalzas Reales church. Of Ghersem's 170 villancicos, seven Masses, 20 motets, other sacred works, 15 chansons, and some Spanish songs, only the Missa Ave virgo sanctissima survives complete, surely one of the greatest losses of music from a single composer during the Renaissance—for Ghersem was a composer of exceptional merit, as we hear today in the Agnus Dei from his seven-voice Missa Ave virgo sanctissima.
    Together, the works on today's program provide a soundscape very much like the one heard by those who viewed the Rubens tapestries during Masses in the convent church in the seventeenth century. That soundscape may not have included precisely these pieces, but it was certainly defined by similar music by most if not all of the same composers. Worshipers who were surrounded by the tapestries during services in the convent would have heard later music as well, especially as the seventeenth century wore on, but we can fairly assume that music by the great Spanish composers of the sixteenth century, as well as by composers of the early seventeenth century like Joan Pau Pujol and Sebastián López de Velasco, remained staples in the Convento church repertoire for many decades, defining that institution's character. Today's visitors to the Getty Museum, hearing this concert after having viewed the Rubens tapestries, may well sense that they have been transported in time to early seventeenth-century Madrid, where they experience the best art and music Spain at that time could offer its most fortunate citizens.