Pomerium will be performing their delightful "Creator of the Stars" concert of Christmas music from the old world on Sunday afternoon, December 22, at All Souls Unitarian Church (East 80th at Lexington). Concert begins at 5:00 pm. Tickets are $25 at the door and are available online at www.gemsny.org. We look forward to seeing you there!
READ THE AMAZING WASHINGTON POST REVIEW OF POMERIUM'S MAY 5 CONCERT AT THE PHILLIPS COLLECTION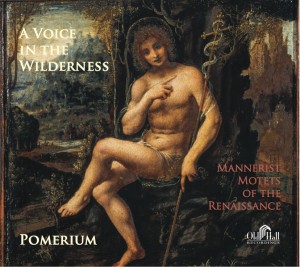 Pomerium celebrated its 40th anniversary in 2012-2013 with the release of "A Voice in the Wilderness-Mannerist Motets of the Renaissance", our newest CD.

Background music: Gesualdo – Ecce vidimus eum
Order your copy here:
 Or download MP3 files here, or at Amazon.com, iTunes, and dozens of other sites.
We are now offering a "Holiday Special" (3 copies for $40)
  or 5 copies for $60
–only through January 2014.
Read About Pomerium's December 2012 concert
Pomerium's first concert of the new season was September 14 at the University of Notre Dame.  Read this excellent pre-concert review and interview with Alexander Blachly.  And here are a couple of comments from people who were there:
"Alex, thank you for the evening of beautiful music. We also appreciated both the well-chosen slides and your comments, which added a deeper dimension to our listening experience. Bravo to you and to your Pomerium; the concert was a delight in every way." — Jane D.
"I thought the concert last night was superb. I could have listened to three more hours. I was in the front row of the balcony and the acoustics were, to my ear, just perfect. Hearty congrats, and many thanks" –John E.
,